Restoration of faded photographs
Repair of UV damage, fading, and colour casts common in old photos.
Makes details more visible and improves subject clarity.
Restored and enhanced colours with digital correction.
A frequent quality problem with old picture prints is fading due to time spent over the years being exposed to light, and chemical changes to the dyes in photographs. This is most apparent when you take a photo out of an oval frame and there is a ring around the edges, showing the contrast between where the photo has been protected from light and the faded area in the centre.
Photo restoration techniques can help with fading photos like this and can be used to help reproduce the picture in enhanced quality with the colours restored. Restoration services are not some magic photo fixing app to quickly fix photos (especially those with uneven discolouration over certain subject areas), as the artwork is applied gradually and carefully checked against the original to retain more details and authenticity. Although some pictures can be restored quickly and easier than others if there is less artwork involved in high detail areas or with more mild fading. All of the restoration and enhancements here are carefully applied by hand and eye with digital cleaning and clarity finely tuned to give optimum results for whatever print size or picture format you choose.
Example showing original and restored copy
This old photograph was fading and discoloured over the subject details and the restoration also involved a minor amount of repairs to get rid of marks and to fix creased areas. The original was an 8x6 inch photo print and as you can see was quite old, from perhaps the early to middle part of the last century.
A faded old photographic print in need of restoration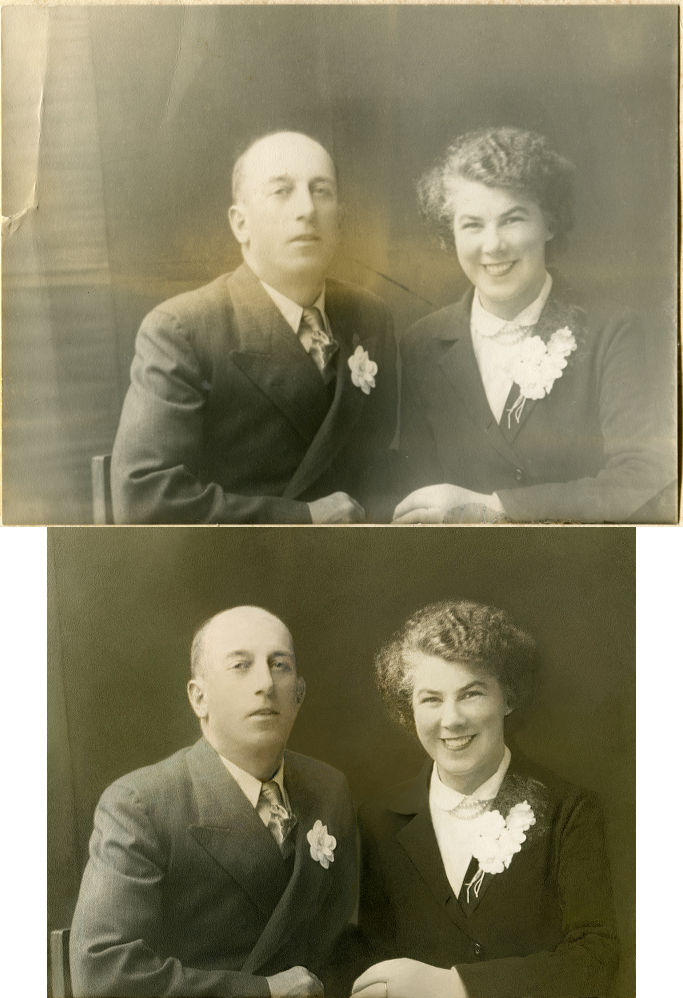 The restored copy which was reproduced as a enlarged 10x8 inch print on an old style soft matte finish after also enhancing the clarity
See more details
Even if the original photograph is in very poor condition or there are very few details visible, photo restoration services can often be used to help repair old pictures that are faded like this or with other quality problems - don't give up hope as digital correction can work like magic if applied correctly.
Of course, the digital copies created from the original and restored picture are timeless and will not fade like the original photo has. And after repairs for physical defects there are also a number of other ways to enhance the digital image and to alter other details prior to making a real copy or reproduction.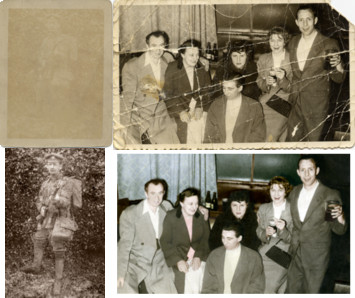 Look through any old photo album and you are bound to find something in need of repair or modern colour correction to restore quality or enhance. Why not help bring back the memories with a high quality restoration service to make ideal gifts from your pictures?
BACK TO TOP
PHOTO ALBUM & SERVICES >>>