Photo restoration (Hull UK)
If you have fading or old photographs or pictures and you're looking for a photo restoration shop local to Hull or your area, then why not try the online photographic services provided here - no shop overheads means high quality picture restoration services at great value prices.PHOTO SHOP SERVICES
Old photographs restored
As well as a service specialising in old photograph restoration, other photoshop type services are available to fix most other photographic problems.
Fine art quality detail ensures your digitally restored photos make for high quality enlargements even if the originals are small photos, with better quality prints than traditional photo copy shops.
You probably won't find any shops specialising in photo restoration in Hull or maybe even local to other parts. The artwork involved in restoring old pictures often needs a professional specialist and can take time - some people may have to wait a while longer but then the photos restored are always high quality.
Why not take a look through your old photograph albums or collections to see if this service can be used to restore any of your old photos?
Arrange a visit and you can drop any albums or old photographs for restoration off in Hessle. Located approx 1 mile from the Humber Bridge, this online photo restoration shop / service provides a high quality finish at great value prices (without any of the traditional shop overheads).
EXAMPLE (PHOTO ALBUM: RESTORATION) OF FADED PICTURE
One of the main problems with old pictures is fading details and colours, although most old photo restoration usually involves the repair of other damaged areas and cleaning of marks and smudges. If any damage or staining is over the photograph subjects or detailed features like faces then often some degree of restoration artwork is required.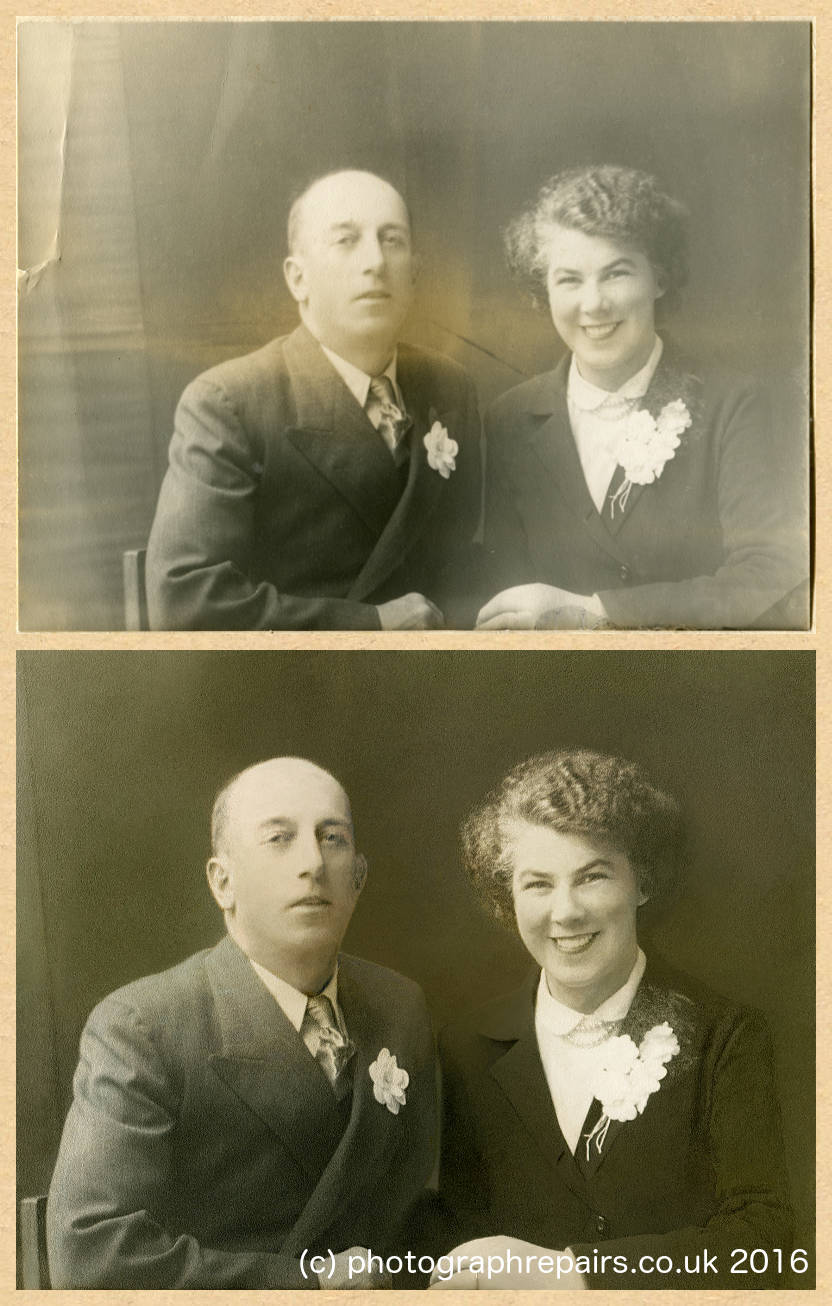 It took some time but eventually all of the faded areas were restored and the coloured marks removed that you can see on the original copy. Some photo restoration shops might cheat here and convert to black and white to get rid of the orange discolouration. To restore this picture properly however, it was decided to keep the original colours (sepia tone). Also provided was digital cleaning and minor repairs / restoration artwork for the slightly damaged subject details around the hand.
As well as old photo restoration, more modern photographs with problems can be corrected. You can also send a digital image or any scanned picture prints to be restored via email. Get help with making copies of old photos or read more about the online photo shop services provided here.
Back to top