SERVICES

Specialising in producing enhanced quality pictures
Customised retouching of subjects or backgrounds
Your photo enlarged onto canvas in high quality
Get ideas for original gifts using old photos or new
Many unique picture options and bespoke services

CONVERSION
Creating digital copies of your photographs is the first processing stage.
DIGITAL IMAGE EDITING
Options to enhance picture quality or customise your images are available once your photo is digitised, see examples of the services below.
REPRODUCTION
Your processed and enhanced images from the service can be used to produce a lovely photographic or canvas print far exceeding the original quality of print used.
Quality restoration and enhancement services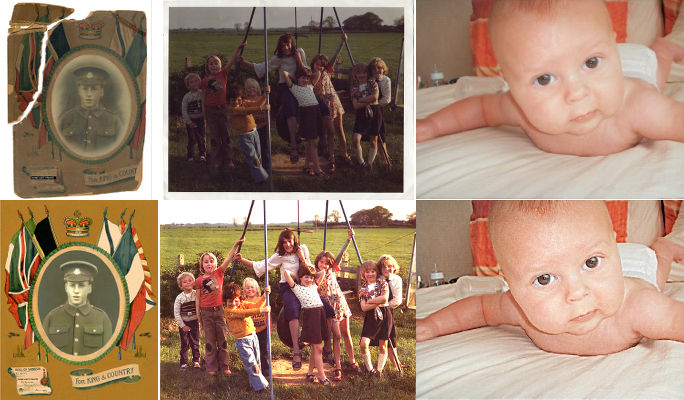 An old picture repair and enhancing of colours and clarity in more modern photographs
Have you ever enlarged a small old photograph and had poor quality results, or have a picture in bad condition? This service can help with professional restoration and quality enhancement for old photograph prints or modern digital images with problems.
Photos restored onto canvas with digital enhancement make a special photo gift unlike any other. It's like magic for photos what can be done here given enough time to bring out the details, making it a perfect photo service for:
QUALITY RESTORATION AND REPAIR
ENHANCEMENT OF PHOTO COLOURS AND CLARITY OF DETAILS
HIGH QUALITY ENLARGED COPIES
AN OLD PHOTO PUT ONTO CANVAS
GIFTS FROM OLD PHOTOS
Browse through any old photo album and you're bound to find some nostalgic old pictures that can benefit from the service.
Custom styles and unique picture options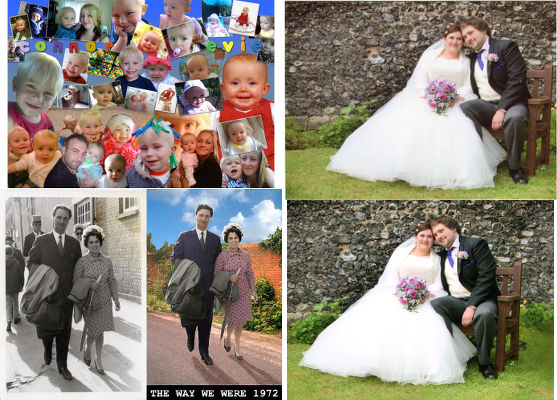 Here a customised photo collage canvas was created from several different pictures which were all arranged onto one big picture. Another shows a custom background change and caption added. The wedding photo was custom sized with artwork to extend the background and centre the subjects on the printed copy.
Whatever your bespoke customised photo requirements, the digital editing services here can create the perfect picture reproduced on canvas or photographic print, with exciting options limited only by your imagination. Some ideas on what can be done with the service include:
CUSTOMISED PHOTO COLOURS OR STYLES

UNIQUE PERSONALISED PHOTO GIFTS INCLUDING:

CUSTOM PHOTO COLLAGE GIFTS USING MANY PICTURES
SOMETHING SPECIAL USING YOUR OWN IDEAS FOR PHOTOS
Photo face retouching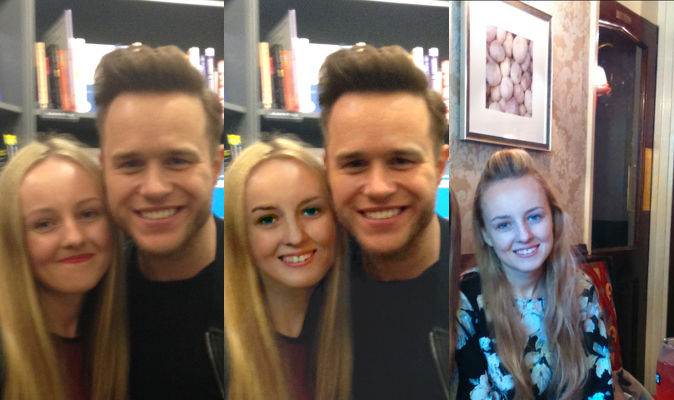 Didn't smile when you should have? For a realistic photo face change or just a better picture for facebook get in touch. You can even change your face using another photograph like shown here, with facial retouching services that give authentic results in the reproduced copy.
If you need your picture retouched with certain details changed or enhanced use the service to help with photo problems like this. As with any artwork achieving an enhanced quality finish that looks right can take some time if the work is extensive, so please consider this if ordering something as a picture gift.
NOT AN AUTOMATIC PHOTO EDITING APP
PHOTO FACE CHANGER ARTWORK BY HAND AND EYE
Subjects enhanced or cut out of pictures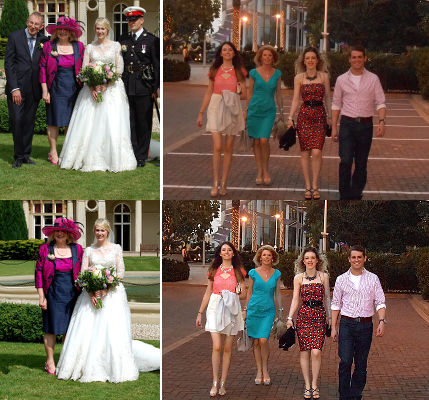 Need help with photo albums, like not having the shot that you wanted or perhaps you've lost one of your wedding photos? Get a new picture created with custom adjustments like shown here to add people to a photograph or help with unwanted subjects. With poor clarity pictures the subjects can be enhanced and made bolder or have other special effects applied - see the photo enhanced onto canvas shown on the right.
For those times when you want to remove people from a photo there are custom adjustments to help with unwanted subjects or to create the perfect picture just how you want it. There's no gap visible in either the original or final copy when using the service to cut people out of pictures (scissors aren't used, that's the old fashioned way). You can also use the service for a vibrant colour canvas reproduction (with more vivid colours better suited for pictures put onto canvas), with enhanced subjects or other special effects.
AUTHENTIC SUBJECT REMOVAL AND CROPPING
SUBJECT ENHANCEMENT AND HIGHLIGHTING EFFECTS
Backgrounds replaced or removed with artwork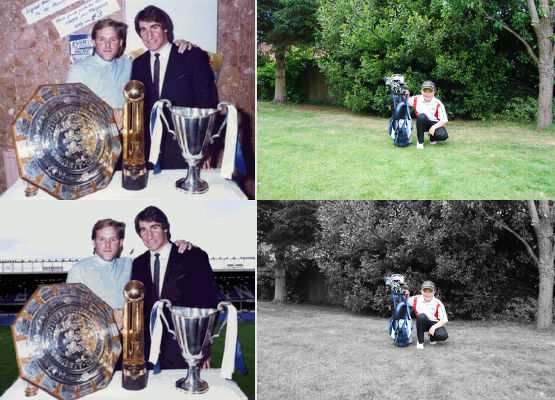 A custom background replacement and a modern photo given an old style look with the main subject kept in colour.
More examples of changing the style of a photograph. A photo background changer service using a new one supplied by or sourced for you. A popular look for pictures is a retro style photo effect with the background turned into black and white.
USE ANOTHER PICTURE BACKGROUND
RETRO STYLE PHOTOS
COLOURED BACKGROUNDS
SPECIAL REQUESTS
Your photographs onto canvas in high quality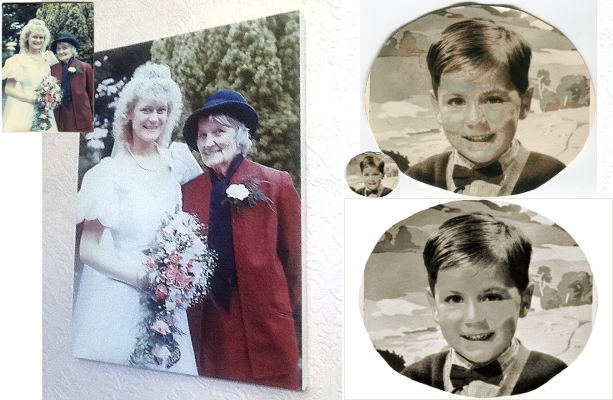 These pictures were enlarged and enhanced onto canvas. The smaller is the original photograph shown to scale. The original wedding photo shown on the left was 5"x7" and the oval shaped original photo shown on the right was only 3" square. Both were reproduced on canvas sized at 12"x16" after quality enhancements.
Take a look at some examples of photo enlargement onto canvas using the service. Your pictures are fine tuned by eye with a crisp sharp finish in the digital images which are reproduced on the highest quality cotton canvas. People are amazed at the quality of finish with fine detail and vibrant colour results from poor quality and small pictures.
HIGH QUALITY ENLARGEMENT AND ENHANCEMENT
ANY PICTURE ENHANCED FOR A GREAT CANVAS PHOTO GIFT
CANVAS PICTURE COLLAGE (see the customised section here)
CUSTOM ADJUSTMENTS AND SIZES
Unique and original photo gifts and ideas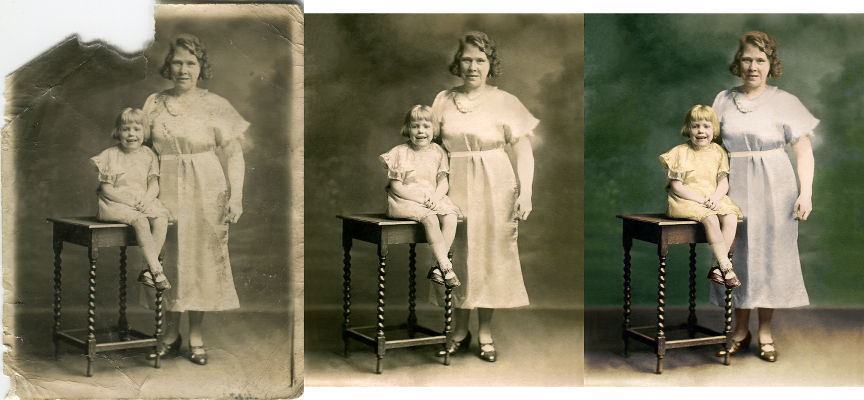 Black and white photographs made into colour are another example of a unique picture gift created using the service. These make popular gifts for older people, and the tints and tones of the photo colouring can be fine tuned to your tastes.
Are you stuck for a special gift to surprise? You might think you don't have anything but you'd be surprised how a small forgotten old photograph print can be used to make a high quality enlarged copy or canvas photo gift. An old black and white picture hand coloured makes a unique photo gift at any size. Often there's a good photograph around somewhere that's been overlooked in the past due to quality issues, so take a look through those old photograph albums or your picture collections for some ideas.
HIGH QUALITY REPRODUCTION OPTIONS FOR OLD PHOTOS
TURNS OLD PHOTOGRAPHS INTO PERFECT GIFTS
CUSTOMISED HAND COLOURING TO YOUR TASTES
MAKE A SURPRISE PHOTO CANVAS GIFT
A service to help with picture problems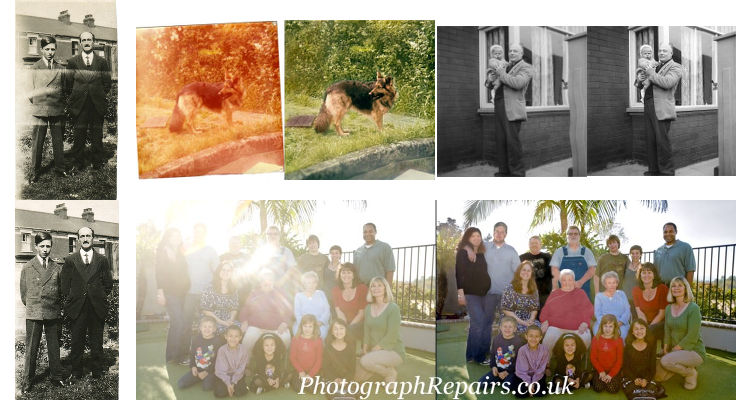 Uv damage, colour shift, distortion, and sun flare correction are some of the photo services provided here.
Whatever issue you have with a photograph there's sure to be a service to help improve the quality. There are many unique and personalised picture options for changing colours, sizes, or aesthetics to your tastes with effects and professional retouching artwork for fine tuning clarity up to museum quality detail as well as other unique options and services not offered elsewhere.
FADING - UV DAMAGE - COLOUR CAST CORRECTION
DISTORTION - LIGHT LEAK - SUN FLARES FIXED
HELP WITH PHOTOS STUCK TO GLASS AND WATER DAMAGED
HIGH DETAIL SHARPENING OPTIONS FOR BLURRED PICTURES
CUSTOMISED PHOTO SIZING - TAILORED REFRAMING ADJUSTMENTS

Contact details and advice for quality copies
---
Email:
info@photographrepairs.co.uk
Helpdesk: O8OO 228 9277
PLEASE NOTE THIS WEBSITE IS NOW CLOSED AS A BUSINESS AND I WILL ONLY BE ABLE TO HELP IN EXCEPTIONAL CIRCUMSTANCES.
Any recent photographs supplied will be returned to senders shortly.
---
Digital image formats
Send to email address above via email or file transfer service (look for an icon to attach any image you're including - tapping your email message may do it)
Get in touch if you need alternative transfer methods provided
Original photos or prints
These can be posted to the service at the address above
Or arrange to visit and bring them round in person for a quick consultation to discuss what services you require
All editing is safely made to a digital copy of your picture
---
Read about COPYING OLD PHOTOS yourself here.
---
Don't have access to scanning equipment and don't want to post an original photo print or have to visit? If you can send a good quality digital photograph of your picture or a decent quality copy, that can achieve fair results and may save a lot of worry about getting the original to the service, and the quality can be enhanced digitally. If taking a photograph of a picture, try to get the full picture square in the frame of the shot and as large as possible (use the best quality setting if available). Copies created from as close to the original media as possible will provide maximum authentic details.
---
Pricing
Most requirements are bespoke and prices are initially tailored to each individual picture requirements based upon a professional finish.
It's a friendly and flexible service that aims to be affordable to all (aesthetic styles and artwork, media finishes, or sizes adjusted to meet most budgets).
Being both a specialist service and a home run business means high quality at exceptional value prices.
---
Be sure to bookmark this page or use the like / share button to tell others about it if you're on Facebook as there's always new picture editing examples going up that might interest you or someone you know.
More details on photo services
---
Photographrepairs.co.uk is a Yorkshire based home run business specialising in digital editing for 15 years, creating enhanced quality reproductions of your pictures with professional retouching artwork, repairs, corrections, and enhancements.
---
Sourcing from local and online suppliers to find bespoke frame or mount styles and colours or the right photographic media to suit your tastes, photographrepairs.co.uk can provide all the photo services and products that you need for high quality reproductions of your enhanced images, on finishes including photographic matte, satin, gloss or beautiful cotton canvas for any reproduced pictures.
---
Large format picture repair with restoration artwork

For repairs to large format old pictures that were originally produced on board, your final reproduced photographic print can be mounted on an authentically matched finish.
Enhancement of a faded photo print

TAP ON THESE EXAMPLES FOR A CLOSER LOOK AT SOME RESTORATION ARTWORK
BACK TO TOP