Photo Service Prints Quality Copies Of Photos
Welcome to photographrepairs.co.uk.
An online photo service located in Hessle near Hull.
Freephone O8OO 228 9277
Email info@photographrepairs.co.uk
---

---
PHOTO SERVICE TO IMPROVE QUALITY
Fix dark photo lighting and bad exposure problems
Colour cast correction and improved colour copies of photos
Make photos better quality for photo enlargements
Fix photo blur and out of focus problems for sharper quality copies of photos
Other photo quality problems fixed
FIX DAMAGED PHOTO SERVICE
Restored copies of photos with water damage, stains, dirt marks
Sun damaged photos with UV damage or aged and faded
Repaired copies of photos torn, scratched, or with missing pieces
CUSTOMISE A PHOTO SERVICE
Change background of photos for fun or custom photo gifts
Remove subjects or have a photo customised or rearranged
Get copies of old photos hand coloured from black and white
Customised photo collages
Custom photo printing sizes to meet your requirements
OTHER PHOTO SERVICES
Scanning services to convert photographs to digital images
Improving quality and overall appearance
Editing services including restoration, enhancement, correction
Our online service has prices better than local photo shops
High quality prints to meet any custom size requirements
EXAMPLES UPDATED Friday 23rd May, 2014 1:20AM:
See recent examples of the types of photo services provided. These include scanning, editing, and high quality printing services for your printed photographs, negatives, slides, digital images and other media.
Photo Services To Scan And Restore Copies Of Photos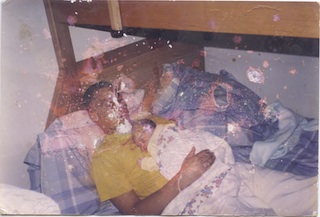 This water damaged photograph with heavy stain damage just arrived requiring our services, obviously in pretty bad shape. We provide scanning services here to scan this 4x6 photograph at the correct resolution required for enlargements (8x10 print size) and for our other services which include restoration and general enhancements for improved photo quality.
Mouldy, damp, and water stained photos like this can be restored by our photograph restoration service. When the damage is as bad as this (over important subject details like the face) our photograph restoration artist has a tougher task. There is no photo fixer software to restore damaged photos simply by pressing a button. A restoration artist (provided by our photo services) must do the work manually.
With most of the background details in the photograph restored, along with some of the subjects, work is now focused on the heavily damaged portion. A high quality service requires attention to detail restoring the part of the damaged photograph involving the subject faces. Stain discolouration, even if its not over the subject details can also require a keen eye blending the shading and colours to match the original.
Some other photographs of the subjects were used to help with rebuilding the profile of the nose and mouth and to achieve a more authentic result. Final detail repair around the baby's face and some final colour enhancements completed this photo restoration.
Photo Services For Damaged Negatives

The service was used here for the scanning and repair of a damaged set of negatives. In this example, our photo scanning service first created high resolution digital images from the stain damaged negative strip. The digital copies were then restored by our photo editing services, a set of 5x7 high quality photo prints was included, and the restored digital images put on CD.
Photo Services To Remove Unwanted Subjects

In this example, our services were called upon to edit and remove an unwanted subject from a photograph. Having the perfect photo ruined by a person in the background (also known as photobombing) is a problem that we can help with. Our editing services were used to remove the unwanted subject digitally, the original background was restored, and our photo printing services provided the corrected 5x7 print.
Photo Service To Hand Colour Black And White Copies Of Photos

Although this old black and white photograph print needed some repairs, most of the improvement came from the hand colouring. Photo services used here included scanning of the original print (size 4x6) to create a digital image for editing, then repairing the damage and restoring the wording at the bottom. After that each detail in the restored black and white copy was hand coloured by our photo editing service to make a modern colour photo (printed at 4x6) from what was originally just a tatty old photograph. What a unique photo gift idea!
Photo Services To Scan High Quality Digital Copies Of Photos
Working from originals in poor condition or creating copies from photo prints without negatives. If you don't have digital copies of your photos or media or don't know what you are doing don't worry, our scanning services include getting the correct resolution for photographs in high quality based upon your size requirements.
Online photo scanning service and conversion of photos to digital copies
Digital images from slides, negatives, printed photos and other media
Scanned at optimum DPI resolution for high quality images and photo prints
Digital copies never degrade so preserves your treasured memories
Our other complementary photo services ensure perfect results
Photo Services To Edit Copies Of Photos
Bespoke editing service for your photos and digital images including restoration, general photo repair, and correction / enhancement services for customised changes to photos.
Online photo editing service with digital editing, no physical doctoring
Repair of sun flares, bad lighting, camera flash, sharpness, red eye
Photo restoration service for water damaged, old, faded, torn, stained, colour cast
Subjects removed, correction of details, adjustment of hues, tints, tones
Custom enhancements like backgrounds changes, hand coloured black and white photographs
Photo Services For High Quality Photo Print Services
Whether it's improving photo print quality for photos to be enlarged, original sized reprints, prints from other media, or custom size photo printing, we take pride in our printing services to provide the quality that you need.
High quality photograph prints, reprints, enlargements
Printed on high quality photographic paper for perfect results
Online printing service - simply email digital images
Custom sized prints to fit your exact framing requirements
Print quality checking with our complementary photograph services
---
To get started or to discuss your photograph requirements:
Email info@photographrepairs.co.uk from your email provider with your enquiry and attaching digital photographs if you have them.
Freephone: O8OO 228 9277 to discuss your requirements or prior to delivering any photographs.
Post or delivery: PhotographRepairs.co.uk, Dovecote, Tranby Park, Jenny Brough Lane, Hessle, East Yorkshire, United Kingdom, HU13 0JU.
Your no obligation quotation price for the services required can be paid securely online or by cash/cheque.
Receive back any original photographs supplied by post or collection.
Receive the digital images provided by our services by email, post, or collection.
Receive any prints by post or collection.
Back to PHOTO SERVICES top