Located: Hessle near Hull (East Yorkshire)
Email: info@photographrepairs.co.uk
Freephone: O8OO 228 9277
PICTURE GIFT IDEAS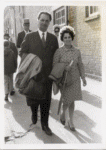 Need a something special for a photo gift?
Restored, hand coloured, or customised photos make lovely presents.

SERVICES TO MAKE PHOTOS PERFECT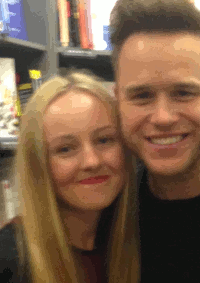 Large or small, any photo problems can be fixed to produce your enhanced pictures as high quality copies.

Photo gift ideas and suggestions

If you need ideas for a picture gift, here are suggestions for things to do with old photos using the service:
Make a photo from the past the present to give!
Made into perfect photo gifts printed on gloss, matte, lustre, or enlarged onto a canvas (100% cotton with a beautiful finish).
Professional services to take care of the cleaning and restoration so you can be sure of a lovely photo without losing quality no matter what size the original.
Get in touch if you would like an old photo turned into a gift !
See more details in the photo album below for a better idea of the photo services provided.
CUSTOMISED COPIES OF PHOTOS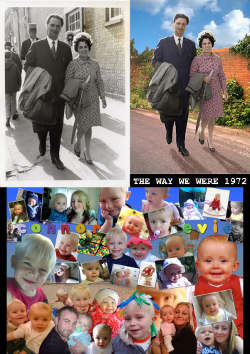 Problems fixed for enhanced photos as high quality copies.
IMPROVED COPIES OF OLD PHOTOS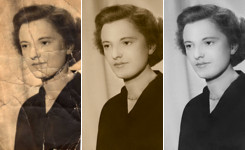 Fading details and colours restored along with repair of damage and digital cleaning - these are some of the main problems with old photographs that can be fixed.
COLOURED COPIES OF BLACK AND WHITE PHOTOS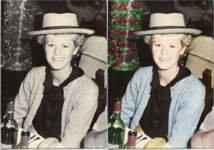 After restoration and repair work is complete, old photos can be coloured with bespoke tints and tones available.

Photo editing service for an exciting range of ways to improve photos

RESTORATION / REPAIRS:


An old photo for restoration, sent recently:

This shows the original copy of the photo with faded portions and orange discolouration along with a few marks.

---

This is almost the restored photo:

Clarity improvements and colour restoration of this old photo is almost complete and all that remains is some detail retouching and to fix the faded portions around the edges.

The photo restoration service can help with photos that are torn, water damaged, faded, stained, or in poor condition. Also repairable are things like lens flare and light leaks which have spoilt or ruined a photo.

CUSTOMISED RETOUCHING / ADJUSTMENTS:


For if you have a special photo that is not quite right or has been spoilt by people in the background.

ENHANCEMENTS / CLARITY IMPROVEMENTS:


Most photos will appear sharper and with better colours after using the service. This can improve out of focus, blurred, dark or dull photographs.
High resolution scanning of photos to digital format and fine detail cleaning combined with the above services ensures best detail reproduction, and quality enlargements from small photos.
Get in touch now with your enquiry for:
Professional photo editing
Best quality copies and enlargements
Digital conversion and scanning services
Customised photo services for any requirements
Online service without shop overheads
Great value and flexible service