COPYING OLD PHOTOS
If you are making or would like digital copies of old photos, let our photo services provide the best quality care and treatment that they deserve. Copying old photos to digital also ensures that the original photo details are retained in case of further loss of quality and degradation. Read more about making copies of old photos here, or see examples of what can be done with digital copies below.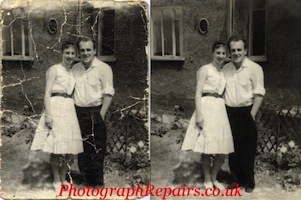 RESTORED COPIES OF PHOTOS
For high quality old photo reproduction with detail restoration for those creased, folded, or worn areas. Producing digitally restored copies of photos faded, stained, colour cast, torn, or in bad condition.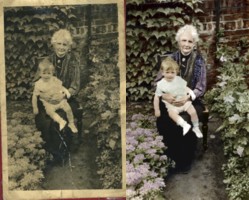 COLOURED COPIES OF PHOTOS
Turn black and white photos into coloured copies and make a gift from old photos. A great photo surprise if the original photograph was in poor condition to begin with. Black and white copies of photos hand coloured digitally without actually making your original black and white photo into colour - a coloured copy is produced and your original photo remains intact.

Find out more about our