Located: Hessle near Hull (East Yorkshire) UK
Email: info@photographrepairs.co.uk
Phone: O8OO 228 9277 (free call)

Photo services to improve quality
Make photos better and fix problems with quality photo editing services.
Improve photograph details, poor clarity, colours, condition or quality issues with digital cleaning and enhancements or customised changes made.
Shape / size problems and other aspects corrected.
High resolution digital copies of photographs to preserve pictures on media that may degrade over time (prints, negatives, filmstrips).
Photos reproduced as quality enlargements / custom sized photo prints or as a beautiful canvas in high quality cotton.
See more details about the quality photo services offered here.
Improved quality copies of photos with repair, restoration, enhancement for:
Poor quality photo prints in bad condition / faded or damaged
Low resolution images from old phones etc
Pictures lacking clarity being out of focus / blurred
Colour problems fixed in dark or dull photographs
Custom or enhanced copies of photos changed, corrected, adjusted:
Photo details enhanced or change subjects / background / aesthetics
Photo colours enhanced or hand coloured copies
Photo size adjustment for custom sized or enlarged copies
Creating digital copies of photos yourself? Read more on making copies of old photos here.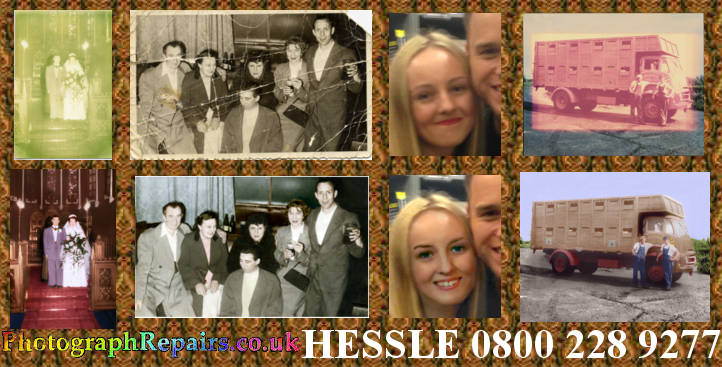 Improvements / cleaning up to make a photo perfect quality or old photos look new
Enhancements / alterations for help with creating the right look / aesthetics with editing of subjects or backgrounds
Custom sizes / changes for enlargements and odd shapes with extensions for subject centralising
Corrections / adjustments for fixing clarity or colour problems
Send photos to: PhotographRepairs.co.uk,
Dovecote, Tranby Park,
Jenny Brough Lane,
Hessle, East Yorkshire,
United Kingdom, HU13 0JU.
Email: info@photographrepairs.co.uk
Freephone: 0800 228 9277

Get in touch now for help with photos by making an enquiry or arranging a visit.
Back to top